In the Hamptons, Luxury Bird Châteaus
Also in Unfiltered, an ancient wine press unearthed in the Israeli desert, rosé jelly, sparkling-wine potato chips, and WineaPawlooza raises $1.3 million for animals in need
Michael Cinque is the unofficial mayor of Amagansett, N.Y., one of the Hamptons' toniest and trendiest hamlets. Cinque, who pronounces his name "chink-way," like the word for "five" in Italian, has his finger in many pies. For the past 38 years, he's owned and operated Amagansett Wines & Spirits, among the area's premier wine merchants. He counts among his clientele a bevy of A-listers, including Sir Paul McCartney, Julie Andrews, Ron Perlman, Jon Bon Jovi, Alec Baldwin and Jimmy Fallon. Cinque also owns vineyards in the area, oversees his family's winemaking and is involved in many community initiatives.
At 61, Cinque unwinds by retreating to his basement woodshop where he fashions birdhouses from spent wooden wine cases bearing the names of top producers and appellations. "It's a great way to end the day and turn on the other half of my brain," he says. "I crank up some music, lose track of time, and afterwards I can actually go and get a good night's sleep."
The birdhouses, sturdy and well-crafted (Unfiltered recently got a first-hand look), come in a range of sizes and shapes: The diameter of the entrance hole determines what species will nest inside, from smaller finches to larger robins, cardinals and blue jays.
Cinque's birdhouses sell for $150 to $350, and he donates the proceeds to his favorite charities, among them the East End Community Organic Farm, a local organic community-supported agriculture operation that contributes to Food Pantry; Project Most, an after-school enrichment program; and Amagansett's Fire Department, Village Improvement Society and Lifesaving Station.
---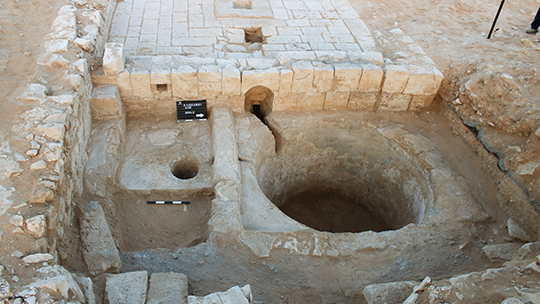 A recent accidental discovery shows that Israel's Negev desert wasn't always so dry. While working on a construction site outside the southern city of Beersheba, a group of workers uncovered an ancient structure and promptly called the Israel Antiquities Authority (IAA) to the scene, who determined it to be a 1,600-year-old, large-scale wine press. Dr. Tali Erickson-Gini, an archaeological inspector for the IAA, examined the site's surrounding geology and nearby ceramic shards to date the press back to the Early Byzantine period (around the fourth century AD).
"This is an interesting discovery because we have plenty of wine presses of the Middle and Late Byzantine periods (450 to 650 AD) in the Negev Highlands, but only one other that can be dated to the Early Byzantine period," Dr. Erickson-Gini told Unfiltered via email. She speculates that the wine made at this site was a sweet white wine used mainly for medicinal purposes, though the wine apparently wasn't powerful enough to stop the plague that swept the region in the mid-sixth century—which is, not-so-coincidentally, when the press is believed to have been deserted.
---
People have been cooking with wine for nearly as long as it's been made, but these days, creative companies are infusing just about anything they can with our favorite adult beverage. The trend has escalated beyond frosés and ice cream to gummies, doughnuts and even shampoo and nail polish. So what's next? Potato chips and, perhaps the most obvious application of all, winegrape jelly.
Torres, a Spanish gourmet snack company, has created sparkling wine–flavored potato chips. The chips are made with sparkling-wine flavoring the brand describes as "fruity," as well as 1 percent popping candy to create an effervescent sensation. A three-pack of 50-gram bags goes for $9; you can figure out wine pairing for yourself.
And now comes a new line of wine-flavored jellies named Drunk Jelly (the surprise is that they're alcohol-free). Four-ounce jars of the jellies are priced at $6 and available in rosé, Cabernet Sauvignon, Merlot, Pinot Noir, Moscato, Pinot Grigio and Chardonnay at DrunkWineJelly.com. Owner Marty Millman came up with the idea as an accompaniment to charcuterie, but feel free to indulge your inner child with a peanut butter and Pinot sandwich.
---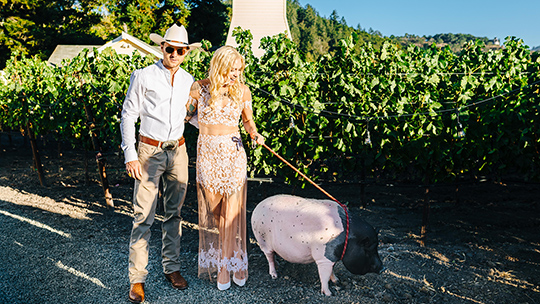 Gamble Family Vineyards opened its doors to Napa's fourth-annual WineaPawlooza charity auction for the benefit of the Jamison Animal Rescue Ranch (JARR), a no-kill sanctuary for companion and farm animals in need. The July 29 event, which raised $1.3 million, began with a walk-around tasting of dozens of collectible Napa wines and a feast of cruelty-free plant-based foods from the Wine Spectator Grand Award–winning Restaurant at Meadowood (chickpea flatbread with crescenza cheese), Ring of Fire (butternut squash pizza) and Nuri (Japanese eggplant curry). A riotous pet parade followed, then a live auction led by auctioneer Fritz Hatton. Guests came from around the country for the cause and the chance to hobnob with vintners Tim Mondavi of Continuum, Juan Mercado of Realm, Russell Bevan of Bevan Cellars and Tom Gamble. "By and large, wine-industry people love animals and everyone wants to help," event cofounder Monica Stevens of retailer 750 Wines told Unfiltered. "The majority of our funds raised help advance our mission of building a world-class, cage-free animal rescue and sanctuary that will serve as a destination and best-practices example for animal advocacy."
---
Enjoy Unfiltered? The best of Unfiltered's round-up of drinks in pop culture can now be delivered straight to your inbox every other week! Sign up now to receive the Unfiltered e-mail newsletter, featuring the latest scoop on how wine intersects with film, TV, music, sports, politics and more.